Why not try something different this winter in the Canadian Rockies?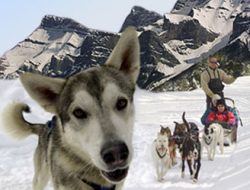 Banff dog sled tours are a great way to get around and see the snowy wilderness in the Canadian Rockies!
The dogs love what they do – it is their full-time job in the winter months! Before your Banff dog sled tour you can have photos taken with the dogs, they are all really friendly, so this is a must if you are a dog lover! On the longer tours you can give it a try yourself – make sure you have the anchor ready just in case you need to stop! Guides will assist you to give you a helping hand and you can just sit back and relax in your sleigh as you speed through the winter wonderland.
The great thing about Banff dog sled tours is that you can fit it around your skiing time so that you do not lose precious ski holiday time off the slopes.
Now there are increased transfers from Banff, Canmore, Lake Louise and for 2008, dog sled tours out of Panorama, getting to the dogs has never been easier this winter 2008 ski season!
The best way to book is to contact rocky-peak Holidays direct and they will take care of everything.
Booking with rocky-peak Holidays also means you pay no booking fees!