Banff is in the wild and beautiful Banff National Park and so there may be a chance that you are lucky enough to see a bear.
There are two types of bears here: the black bear and the grizzly (or brown) bear. Don't let the names fool you, you may see a brown or cinnamon coloured "black bear" like the cub with her mother photographed below: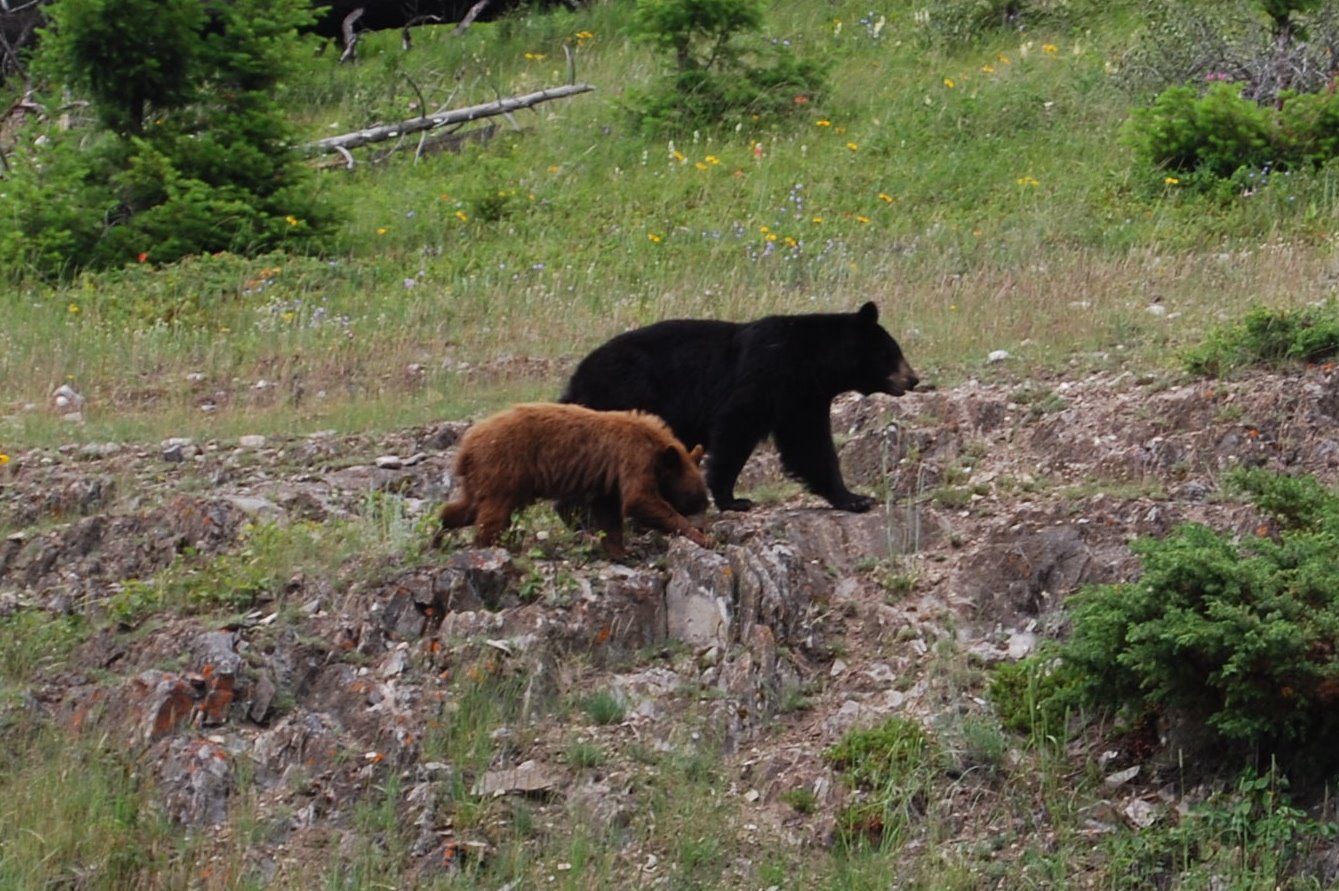 Black Bear
Grizzly Bear
The grizzly bear can be identified by it's distinctive hump on the back of it's neck.
A grizzly bear is also larger than a black bear.
Each year, people get too close to wildlife especially bears. I personally have seen families stand in front of a bear cub on the side of the road to take pictures. This is not fair for the bear, especially the mother who is watching and may decide to protect her cub at anytime.
Please don't put bears, or any other wildlife, in this position, it simply isn't fair.
The bear safety information below has been sourced through Parks Canada:
---
What should I do if I see a BEAR?
If you are driving: stay in your car, and consider not stopping.
If you are not in a vehicle:
Stay calm. If a bear rears on its hind legs and waves its nose about, it is trying to identify you. Remain still and talk calmly so that it knows you are human and not a prey animal. Bears may also bluff charge: run toward you and turn away at the last moment. A scream or sudden movement may trigger an attack.
Pick up children, stay in a group.
Back away slowly, don't run.
Leave the area. If this is impossible, wait until the bear leaves; make sure it has an escape route.
To reduce your risk of a surprise encounter:
Make noise. Clap, sing or yell to announce your presence, especially where a bear might not otherwise smell, hear or see you coming. (Bear bells are not very effective.)
Travel in groups, on established trails, and during daylight hours.
Minimize odours by proper storage of food, garbage and toiletries.
Leave the area if you see a bear or fresh tracks, droppings, diggings; or if you come across a large dead animal (a bear may be nearby).
If you surprise a bear and it defends itself:
Use bear spray if you have it. PLAY DEAD, let it know you are not a threat: lie on stomach with legs apart, cover back of head and neck with hands, keep pack on to protect your back.
If a bear stalks you and then attacks, or attacks at night:
Try to escape, use bear spray if you have it. FIGHT BACK, let it know that you are not easy prey. (This kind of predatory attack is very rare.)
---
After many on-foot bear encounters myself with both black and grizzly bears, the best form of defence is avoidance. If you make lots of noise by talking loudly to your hiking friends, you are very likely not going to see a bear. Be aware of bear presence (scat/faeces), damage to vegetation etc. and leave the area. If you are unable to leave the area, make lots of noise.
Guides are easily available so if you are not comfortable hiking in the wilderness then local experts can certainly take good care of you.
rocky-peak Holidays is a local company based in Canmore, just 5 minutes outside of Banff National Park and can help you find a suitable guide. There are also group hiking tours available.
Have you had a bear encounter you would like to share with us and our readers? Please post it below!